SIEM Tab
Use the SIEM tab to configure settings for the saving Management event logs in a SIEM.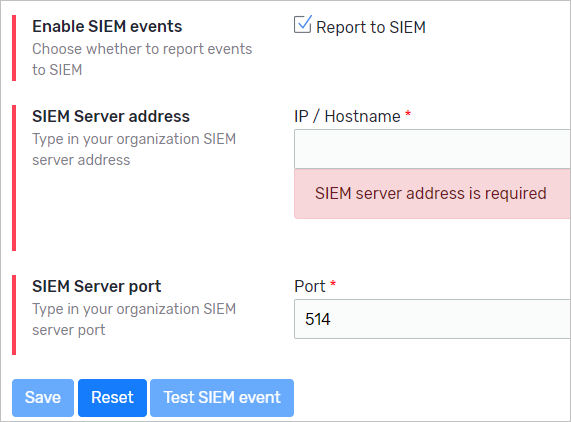 The tab contains the following configuration fields:
Field

Description

Enable SIEM events
To activate SIEM logging, select the Report to SIEM checkbox.
SIEM Server address

Address of the SIEM system collector service. Specify a hostname where the address represents a fully qualified hostname or an IPv4 address.

The default is empty. When the address is empty, the server uses its own IP as an address.

SIEM Server port

Specifies the UDP port of the SIEM system collector service. Specify a positive integer between 1 and 65535. The default is 514.

For more information about SIEM logging in Management, see Sending Logs to SIEM in CEF Format.
To test the connection settings , click

at the bottom of the screen.
| | | |
| --- | --- | --- |
| | n | If the settings are valid, a verification code is displayed in Management. For example: |
The same code should appear in your SIEM system.
| | | |
| --- | --- | --- |
| | n | If the settings are invalid, an error is displayed below the button. |